Grave plaque with plane, photo portrait
Granite plaque ideal to be put in a cemetery.
Here is a totally customizable granite memorial plaque. We can offer this to a late friend, or a late military thanks to the engraved military plane.

At Renaud Gravure's, we engrave the portrait you send us. Our artist engraver will work on it, according to what you desire. For instance, he can remove part of the background. He will first send you a visual result, and wait for your agreement to engrave it.

The base is two aluminium feet, with brass screws. The advantage is that both metals are stainless. It means they totally fit outdoors. They will not rust.

The engraving is in the mass, thus it will last. Renaud Gravure's products are sustainable.

What are the elements of this commemorative plaque :

This is a black granite plaque.
There is at the left, a military plane flying. The head of the plane goes to the top right while the end is lower.

At the same level, on the right there is an engraved portrait. You have to submit it, as the engraver will work on it, you don't have the visual yet.

At the bottom, in the middle there is the epitaph "In loving memory of Bob 1987-2015"

All three elements are engraved, and naturally appears in white.

How to create a similar cemetery plaque :

- The plaque : When you click on "Make a plaque here", there is already a blank plaque. You do not have to make change.

- The plane : Click on "High definition drawing", then "Create drawing #1". Click on "aviation" and choose the 9th pattern. If you want, you can change the size, position and rotation. Click on "2: Size, position and rotation". Here the characteristiccs are : Size 35 ; Horizontal positionning -58 ; Vertical positionning -130. You can use the cursors to help you.

- The portrait : Click on "Photos, engraved portraits", then "create engraved photo #1 ". Here we have decided to crop it. Follow the instruction to download your own photo.

- The text : As before "Texts", "Create text #1", Type it and choose the style and the size. Here Style 12 and Size 18.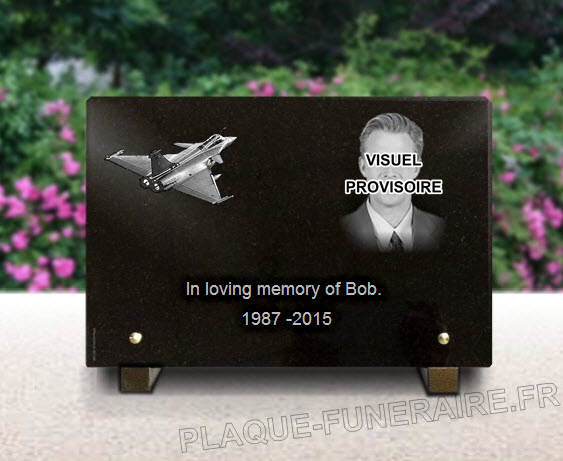 Material : granite Height : 20 cm Width : 30 cm Thickness : 2 cm Weight (around) : 4.5 Kg

Personalise this memorial plaque
Price calculated in real time




287 Euros
The unalterable engravings presented
are included in the price






---