A round photoporcelain on a granite commemorative plaque.
Genuine engraving of granite personalized memorial plaque.

Round memorial photo porcelain with yellow marbled background, sticked on the plaque. There are several types of ceramic, in oval, square, rectangular. There are also different sizes.
The background can be changed, there is a blue sky or a grey marbled. You can make all the tests to order the good one.

Engraved flower in the mass ( collection Styliflore).

It is a medium-sized-plaque. It measures 25cm x 35cm. This high quality memorial plaque has been polised as the other plaque, naturally. The front and the four sides are polished naturally, and shine also naturally. In fact, once totally polished, we heat the plaque and the sheen appears. It thus means that it is not a vernish, a painting and moreover it means it will last.

Presentation of the elements of the plaque :

It is a black granite plaque of 25cm x 35cm.

There is a the top, in italics names and dates "Jill Harper 1979-2015". The font looks like it is quickly handwritten.

Below, on the left, there is a round photoporcelain. There is the photo of the deceased with a yellow marbled background. It is no longer the original background. There is a white border.

On the right, there is a big flower, that goes from the middle in the bottom to the the middle on the right.

How to find these elements :

Change the plaque for a bigger one in " Plates", "Black granite plates" and then choose those on bases . This flower is in "Collection Styliflore". There you find different models of plaque with flowers. If you prefer another flower, click on plaques blank and prefer choose a flower in "High definition drawings".

For the text, it is easy. Click on "Texts" and "Create tetxt #1". Please change the shape the letter for the font you like. In this example of commemorative plaque, please select "Style 4".

For the photoporcelain, please go on "Photoporcelain". In the menu, change "Form oval " to "form round". Take "Cropping + marbled yellow" instead of background not changed.
After that you will be able to add your photo.

Please remember it takes more time to create a plaque with a photoporcelain than with an engraved portrait.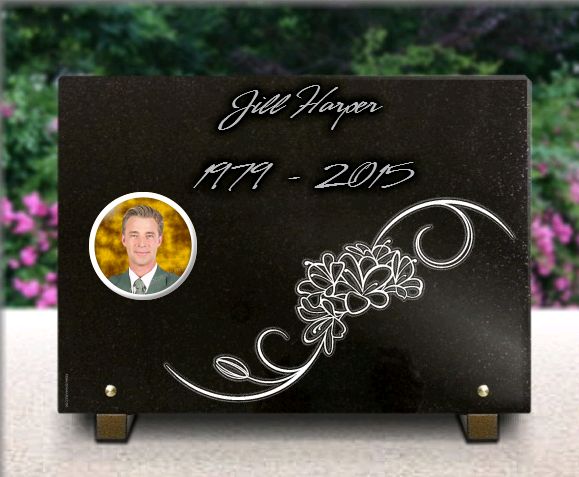 Material : granite Height : 25 cm Width : 35 cm Thickness : 2 cm Weight (around) : 6.3 Kg

Personalise this memorial plaque
Price calculated in real time




209 Euros
The unalterable engravings presented
are included in the price





---