Memorial plaque to screw for gravestone
A granite memorial plaque, ready to screw on a tombstone.
Granite plaque of memorial park drilled to screw ( screws are provided),
the parchment background is engraved,
so as the personalized text and the heart.
The heart is engraved, and then gilded with 24 carat gold.

Using 24 carat gold leaf is a proof of sustainability, as it is the purest gold ( no copper, no metals)the colour will remain the same.

The plaque is drilled twice, on the two sides. Ready to be fixed to a gravestone.

Presentation of the selected elements :

This is a deep black granite plaque. It is drilled on the two sides, at the left and at the right.
The plaque is horizontally settled.
There is a white parchment at the background, which rolls in the bottom right corner.

There are two texts, on at the left with an handwritten writting which is "Whatever I do, wherever I am, nothing erases you, I think of you".
The second one is on the left, with capital letter. It is the surname "Maggie".

Below the name, there is a gilded heart. It looks like a thread creating a heart.

Where can you find those elements :

- The plaque : in the software, select " Plates", "black granite plates". Then please click on "Plaques punched to screw on". Finally, click on " Plaques parchment". It is the second one. You can not change the parchment.

- The texts: They are separated.
- Text 1 : Click on " Texts", then "Create text #1". Type down or use our examples where the text is available. You can key enter to draw the paragraph on several lines. After, you might "2: Letters' shapes" and select "Style 2". Then, you can click on "3: Size, position, rotation" and use the cursor to design the text according to your taste. If you desire, here are our caracteristics : Characters size 27 ; horizontal position -130 ; vertical position -130 ; Line spacing 30 ; Rotation 180
- Text 2 : Click on "Texts", then "Create text #2". Please type it. It is the same process. It is style 5.

- The heart : Click on the thumbnail "Gilded drawings", "Create drawing #1". In the pop-up window, please select "Hearts in 24 Carat gold". You are then able to change the drawing with the cursors.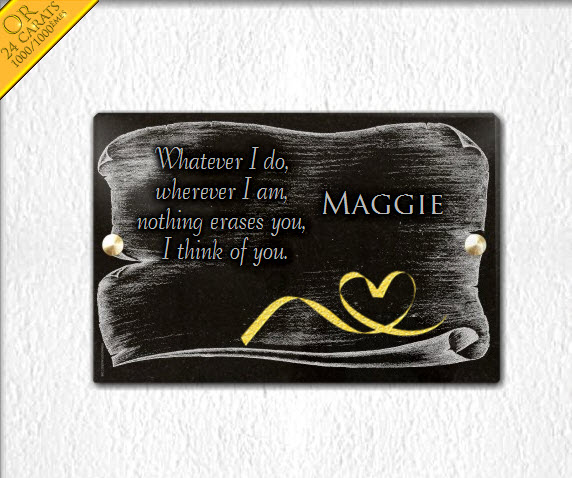 Material : granite Height : 20 cm Width : 30 cm Thickness : 2 cm Weight (around) : 4.5 Kg

Personalise this memorial plaque
Price calculated in real time




287 Euros
The unalterable engravings presented
are included in the price





---