Grave plaque to screw, porcelain medallion
Understated memorial plaque. Deceased's photo in a porcelain medallion. Engraved flowers and name.
An original idea of memorial plaque. This one is vertical, measures 30cm x 20cm x 2cm.
You can simply put it on the tomb in order to be able to move it, or thanks to holes in the metal feet, you can screw it in order to fix it.

The metal feet are provided.

The plaque is deeply black, a particularity of Indian granite. It is outdoors resistent, to winds, to heat.

There are the name and flowers. They are engraved.
The photoporcelain is also outdoors resistent. Instead of using synthetic colour, we use ceramic pigments, which guarantee the colours to stay.

Presentation of the elements :

On a vertical black granite plaque, there is at the top a medallion. It is a porcelain portrait of the person, with a marbled green background. Moreover there is a special border, a black line and a white thin one. This photoporcelain is oval.

In the middle there is a flower. The drawing comes from the left to end on the right, with a wave movement, but the flower only appears in the center.

On the bottom right corner, there are the name and surname of the late person "Shirley Worsell".

How to find the elements in the software :

- The plaque : Please, open the configurator by clicking on " Make a plaque here", on our home page. Then, choose the plaques. Click on "Plates", Granite plates". You want a plaque put on two metal base, thus click on "Plaques on metal base", and categories appear. Select "Collection Styliflore". Use the arrows to go down until you have this pattern ( the 5th).
As the flower is already on the plaque, you do not have to choose another drawing.

- The photoceramic : Click on "Photoporcelain", "Create porcelain 1". A pop up window opens. Choose the size, the form. Here it is a "cropping + marbled green" , if you click on " background not changed". About the border, click on "white border", to change to "white border, luxury thin line".
As you can notice, there are other characteristics you can select. Then go on the next stage. Follow the instructions, according to the kind of photo ( digital or argentic). If it is argentic, you will have to send it to us.

- The text : "Texts", "Create text #1". Now type down the text in the blank space. You can see it directly written on the plaque. After that, click on the thumbnail "2: Letters' shape", and pick "Style 9". Finally, if you want to order your text, click on "3: Size, position, rotation" and use the cursors to your taste.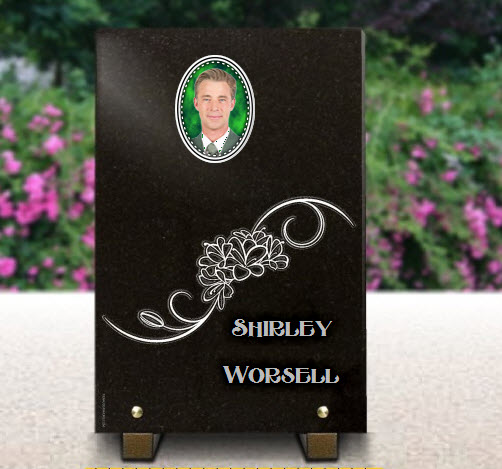 Material : granite Height : 30 cm Width : 20 cm Thickness : 2 cm Weight (around) : 4.5 Kg

Personalise this memorial plaque
Price calculated in real time




161 Euros
The unalterable engravings presented
are included in the price





---